Usage and Performance Analytics

Deploy in 5 minutes to see what your end users are really experiencing
Check out the top reasons why people choose WebTuna for performance and usage analytics.
See our collection of recorded video demonstrations, testimonials and webinars.
Download the WebTuna brochure including how we can help SharePoint on-premise or online.
Trusted By These Companies



Real User Monitoring
Captures every request from every user. Provides real time and historical analytics about the performance and usage of your web site or web application.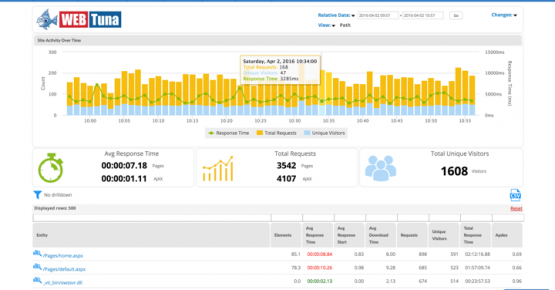 Performance Analytics
WebTuna lets you see how the pages and AJAX requests within your web site are performing and how the load times vary by Page, URL, Device, Browser, Operating system, User, Country and more. You will know when poor performance is affecting user experience and why.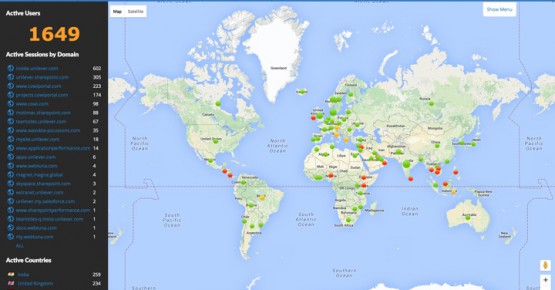 Usage Analytics
WebTuna lets you see who is using you site and where in the world they are coming from. You can keep a check on the user adoption of your site and see which areas of the site are accessed most often and which are not.
Performance Details
WebTuna shows you not just averages and percentiles but the full distribution of response times and the breakdown of where the time was spent whether it be DNS lookup, TCP connection, SSL, redirects, server side response time or fetching the page resources and loading the DOM (Document object model).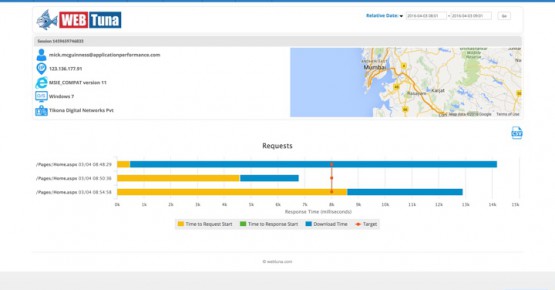 Every request from every user
Since WebTuna captures every request from every user you can drill down into a specific users session and see every request they made and the response time. Without this kind of evidence, IT staff must rely on anecdotal information from end users. With WebTuna the process of troubleshooting issues for particular users is much faster.