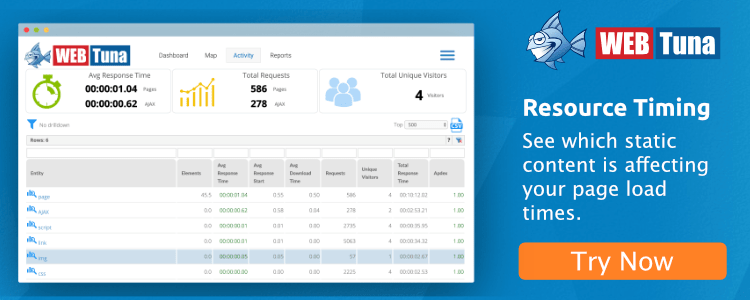 WebTuna August 2019 release
It has been a little while since our last release, and our new release now collects all the resource timing information that modern browsers provide. This includes images, style-sheets etc, as well as the previous page and AJAX data that has always been collected.
The changes within the UI take place immediately, but to capture the resource timing data will require you to update the version of webtuna.js which you are running. If you happen to be loading this from our CDN then that will also take place immediately, but otherwise you will need to schedule that in at your convenience.
Changes in Detail
We have introduced a new version of webtuna.js, version 4.0. This supports and collects all the Resource Timing data which is provided by most modern browsers such as Chrome, Edge, and IE. This allows data to be collected for every individual resource on a page, such as the images and css files. This is important because it permits in-depth analysis of the cause of slow page load times. Data for AJAX calls is collected as before. The Resource Timing data is presented in the UI under the view Request Type. Further changes are under way within the UI to allow more intricate analysis, and these will be released separately.
We have updated the database technology behind WebTuna. The result for our customers is that analyses over longer periods should run very much quicker, and with more consistent durations.
We have removed the views Browser, and Operating System, as previously outlined. They were replaced over 12 months ago by Browser Family, Browser Version & Browser Mode along with OS Family & OS Version.
Versions 3.0 & 3.1 of webtuna.js are now deprecated, and they will be disabled & removed after 6 months, and we will no longer be able to collect data provided by these versions from 1/3/2020. If you are still using them, please ensure that you upgrade to a more recent release of webtuna.js before then. Your site administrator can determine which version of webtuna.js is in use. The new version can be downloaded here, and we also have a number of faq here on installing it.
Try it out
Resource Types appear as a view within the Activity section. Click here to take you into WebTuna, to see where you will find the different resources (once you have upgraded webtuna.js)
As always, if you do notice any bugs or have any feedback, or If you need any help with this new feature please get in touch. Or if you are new to WebTuna, please signup for a 15 day free trial.